Your Alternative to SOPHOS: Data Privacy and Encryption by Boxcryptor
SOPHOS discontinues its LAN Crypt and SafeGuard product lines. Here you can learn more about alternatives to keep your organizational data secure.
In February, it was announced: SOPHOS's SafeGuard LAN Crypt will be discontinued. Many Companies trust in Sophos' SafeGuard encryption solution, to protect their data and networks. SOPHOS has stopped offering any support or updates for this software from the 30th of September.
But SophosLAN is not the only discontinued product. From Mid 2023 also other product of the SafeGuard group will come to an end. Companies using this software will also be forced to look for other alternatives.
This is where Boxcryptor comes into play, an encryption solution from Germany that encrypts clouds and NAS' in a flexible and scalable way.
Read on to find out more about the features of SafeGuard LAN Crypt compared to Boxcryptor. We will help you figure out if our encryption solution is a fitting alternative for your company.
What is SafeGuard LAN Crypt from SOPHOS?
SafeGuard LAN Crypt encrypts files directly on the user's computer and enables collaboration on encrypted documents and data in teams. The software is mainly used by big companies with many employees, to encrypt NAS systems and is known under the name Sophos Safeguard Enterprise.
With SafeGuard LAN Crypt only authorized people in an organization have access to sensitive data. Policies can be set to manage permissions for users and user groups. The encryption happens in the background and, therefore, does not interrupt workflows.
What is SafeGuard from Sophos?
Like SafeGuard LAN, SafeGuard encrypts documents directly on the device. This way, the software protects you from theft of data if you lose your device and enables you to safely share your data with company internals and external people via cloud or email.
A very convenient tool for data protection officers, was the possibility of creating a compliance report in Sophos SafeGuard. This serves as proof of compliance with internal company compliance requirements.
Additionally, there is the possibility of a role-based administration with different authorization levels. This way, for example, the authorization of important tasks can be carried out by two people in charge.
Boxcryptor is the Alternative to SafeGuard LAN Crypt
Boxcryptor offers the most important features of SafeGuard and SafeGuard LAN Crypt as well as many more. One additional advantage of Boxcryptor compared to SafeGuard LAN is the fact that the software is optimized for the encryption of the cloud. You can not only encrypt your company's NAS, but any cloud that is used by your organization, as well. The data is encrypted on the employee's device on-the-fly in the background, before it leaves the device of the employee. This way, only securely end-to-end encrypted data reaches the cloud.
Additionally, you can also integrate your Boxcryptor account into Microsoft Teams and rapidly discover any suspicious activities through auditing.
Boxcryptor supports all major cloud providers and works on all operating systems and devices. For this reason, the new software can integrate seamlessly into the existing IT infrastructure. Boxcryptor is optimized for collaboration and teamwork and our team plans Boxcryptor Company and Enterprise were developed specifically to meet any company's security and collaboration requirements.
Migration of SafeGuard Encryption to Boxcryptor
If you would like to migrate your organizational data from a Sophos solution, SafeGuard encryption or LAN Crypt we are happy to help. Files and folders inserted by file operation using the Boxcryptor drive are encrypted directly. Since Boxcryptor is using AES-256, encryption performance is ensured. No noticeable delays occur.
Central Device Encryption by Sophos
The discontinuation of the LAN Crypt and SafeGuard product lines also causes the users of Central Device Encrpytion to have to look for a suitable alternative.
Sophos Central Device Encryption is a hard disk encryption solution for Windows and Mac, which is administered in the web-based management console Sophos Central. An HTML wrapper allows data and devices to be securely exchanged even though they are encrypted, as the file sent can only be opened by the usage of a recipient's password. Moreover, the utilization of Central Device Encryption allows the user to keep track of the encryption status and methods of all devices in the environment.
Boxcryptor as Alternative to Central Device Encryption from Sophos
Again, Boxcryptor proposes a valuable alternative and replaces Sophos' Central Device Encryption. Boxcryptor allows the encryption of more than 30 cloud providers, in addition to NAS systems and local data. The software can be installed on desktops, tablets and smartphones. Intuitive operation enables end-to-end encryption of selected files.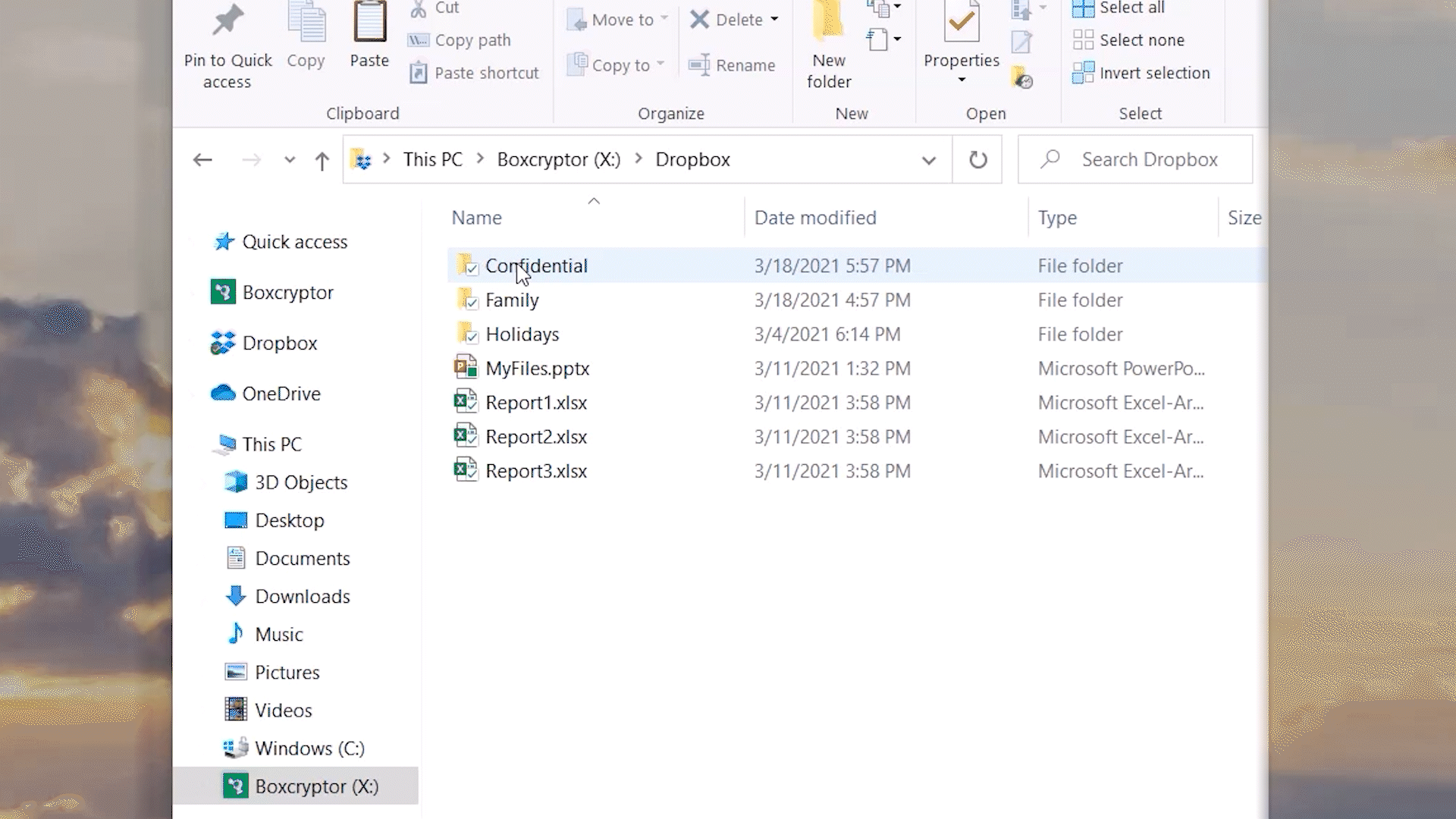 Just like the Central Device Encryption, Boxcryptor facilitates sharing encrypted data with external partners. With the help of the Whisply integration a password can be chosen and the validity period of the link can be defined. The link can be sent unlimitedly, as well as to people who aren't using the cloud. The advantages of central administration through Sophos Central Device Encryption are ensured with Boxcryptor, too, through user administration via the admin web interface and the Master Key.
Even in terms of transparency, data protection with Boxcryptor can be compared to the Central Device Encryption solution. Internal and external compliance guidelines are obeyed with exceptional accuracy. With the number of workdays spent in the home office being on the rise, the importance of protected devices and data continues to increase, as well.
Boxcryptor is a convenient, privacy-compliant and above all secure alternative to the encryption by Central Device Encryption.
Overview of the Central Features of Boxcryptor Company and Enterprise
Single Sign-on: Set up more efficient and simpler user management.
Active Directory Support: Integrate Boxcryptor into your workflow faster.
Account Capture and Customer-managed Keys for more control.
Personal Setup Assistance: We help you get started with Boxcryptor Enterprise, whichever way you prefer.
Master Key: Stay in control of your company's data.
Reset User Passwords: Reset forgotten user passwords to prevent data loss.
Group Management: Create groups for different levels of data access.
Customizable Policies: We support you with the compliance of your security guidelines.
More information and an overview of all functions of Boxcryptor Company and Enterprise can be seen here
We Can Help You Protect Your Data
Zero knowledge encryption "Made in Germany" – that is Boxcryptor. We reliably encrypt your NAS and File Server while providing everything you need to use the cloud securely and in compliance with data protection regulations. With single sign-on, self-managed keys, active directory support, auditing functions and other useful features. Since the company was founded, we have received several awards, including the German Founder's Award. Our 30-member team consists of crypto experts and software developers devoted to cloud security. Experienced account managers are always at your side if you have any questions.